Tokie pasirinkimai kaip mikroautobusų nuoma Vilniuje ar automobilių nuomos paslaugos užsakymas bet kuriame kitame šalies mieste, dažnu atveju atrodo, kaip savaime suprantamas dalykas ir, dažniausiai, nesukelia jokio streso. Situacija neretai keičiasi iš esmės tuo atveju, kai kalbame apie mikroautobusų nuomą svečiose šalyse. Daugeliui tai būna neįprasta, be to, netikėtumų tikimybė yra gerokai didesnė nei nuomojant mikriuką gimtoje šalyje. Tačiau tai neturėtų gadinti jūsų atostogų nuotaikos. Na, o, kad viskas būtų puiku, būtinai susipažinkite ir su šiomis įžvalgomis.
Mikroautobusų nuoma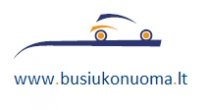 Reikalinga įdėmi automobilio apžiūra
Pats metas pakalbėti apie vieną svarbiausių patarimų, kurio turėtumėte laikytis bet kokia kaina, priešingu atveju, rizikuojate patekti į ne pačias maloniausias situacijas. Taigi, kaip skamba tas patarimas, kurį derėtų įsiminti visiems laikams? Atminkite, kad prieš įlipdami į automobilį, turite jį  labai atidžiai apžiūrėti – galbūt pamatysite kokių nors įbrėžimų ar įlenkimų. Jei taip, apie tai turite iš karto informuoti nuomos punkto darbuotoją.
Pageidaujate atostogų be streso?
Užsakykite automobilį dar būdami namie
Tam, kad jūsų atostogos iš tiesų būtų be netikėtumų ir patirtumėte  kuo mažiau streso, nepamirškite iš dar vienos svarbios detalės: bus idealu, jei transporto priemonę užsisakysite dar būdami namie. Tokiu atveju be skubos, galėsite išsirinkti jums iš tiesų patinkančią ir tinkančią transporto priemonę ir ją užsisakyti. Viskas, ką teliks daryti atvykus į svečią šalį, tai – tik nuvykti į nuomos punktą ir pradėti savo kelionę.
Draudimas – ne tik automobiliui
Kalbant apie automobilių nuomą svečiose šalyse visada yra patariama nepamiršti ir draudimo automobiliui. Tai – savaime suprantama, yra venas geriausių patarimų, tačiau nereikėtų ignoruoti ir dar vieno dalyko. Pasirūpinkite, kad draudimas būtų taikomas ir automobilyje paliekamiems daiktams.
Ir pabaigai…
Jau ne kartą minėjome, kad draudimo reikšmė yra labai didelė, tuo tarpu vairuojant automobilį svečiose šalyse, jo svarba išauga dar kelis kartus. Tačiau, kad nesklandumų būtų kuo mažiau, svarbu iš anksto susipažinti ir įsiminti draudimų rūšių pavadinimus. Nieko nelaukite – rinkti žinias apie juos pradėkite jau dabar. Jau dabar turite puikią progą susipažinti su kelių rūšių draudimais: Collision damage waiver – draudimas su atsakomybės apribojimu; Personal accident insurance – keleivių draudimas sužalojimo ar mirties atveju ir t.t.
Kaip matyti, mikroautobuso nuomos paslauga svečioje šalyje gali būti viena iš tų, kuri nesukels streso ir netikėtumų, jei iš anksto pasidomėsite šia informacija. Tad belieka tik pasinaudoti šiais patarimais.
Mikroautobusų nuomos paslaugą atraskite ir Lietuvoje – Busiukonuoma.lt