Vestuvių šventė neįsivaizduojama be ilgo ir atsakingo pasiruošimo. Šis procesas apima daugybę įvairių veiksnių. Paprastai pasiruošimas šiai šventei yra neįsivaizduojamas ir be tam tikrų detalių, reikalingų šventei, įsigijimo. Vis dėlto, svarbu pasakyti, kad pirkimas – tikrai ne visada geriausias sprendimas, todėl tam tikri šventiniai akcentai turėtų būti nuomojami. Kokie? Apie tai ir kalbėsime netrukus.
Mikroautobuso nuoma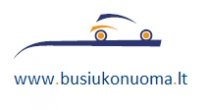 Dar vienas akcentas, kurio pirkimą šiai šventei neturėtų būti kalbos, yra automobiliai. Nors kai kuriais atvejais iš tiesų galima išsiversti ir su nuosavomis transporto priemonėmis, paprastai jos nėra pritaikytos šiai išskirtinei progai. Šventei reikalingas išskirtinis, prabangus, o dažnu atveju – ir labai daug žmonių galintis sutalpinti mikroautobusas ar bet kuri kita transporto priemonė. Tačiau tai dar nereiškia, jog besiruošdami vestuvių šventei turite įsigyti naują transporto priemonę. Nieko panašaus – mikroautobusų nuoma Vilniuje ar bet kurioje Lietuvos vietoje taps pačiu geriausiu sprendimu. Juo labiau, kad šiandien transporto priemonių nuoma sudaro vis didesnį pasirinkimą, tad visai nesvarbu, kas jus domina – mikroautobusų nuoma vestuvėms Vilniuje, Kaune, Klaipėdoje ar bet kuriame kitame mieste – bet kuriuo atveju rasite sau patrauklų sprendimą. Išsinuomoti mikriuką ar busiuką galima ne tik vestuvėms, bet ir mergvakariams ar bernvakariams. Naudinga pasvarstyti, verta nuomoti su vairuotoju ar be jo. Kadangi vestuvės yra smagaus įvykio sūkurys, naudingiau nuomotis transporto priemonę su vairuotoju. Taip, tai šiek tiek kelia nuomos kainą, bet sutikit su tuo, nesmagu gi sėdėti už vairo, kai kiti linksminasi 🙂
Pobūvio vietos nuoma
Bene vienas pagrindinių akcentų, be kurio neįsivaizduojama vestuvių šventė ir apie kurio nuomą verta pagalvoti, yra pobūvio vieta. Tai, kuri vyks jūsų šventė, priklausys nuo jūsų pageidavimų, tačiau pasirinkimas iš tiesų žavi: restoranai, kavinės, dvarai, užmiesčio sodybos, vilos, pramogų centrai – tik nuo jūsų pačių priklausys, kuri surengsite savo šventę. Belieka tik pridurti, kad pobūvio vietos nuoma yra vienas iš tų akcentų, kurį rezervuoti reikėtų kaip įmanoma anksčiau.
Dekoracijos
Vestuvių šventė tikrai negali būti įsivaizduojama be dekoracijų. Ir kuo jų daugiau, kuo puošnesnių bei prabangesnių, tuo geriau. Savaime suprantama, tokios dekoracijos kaip gyvos gėlės ir jų kompozicijos, žvakės, stalo kortelės, fotografavimosi sienelė turi būti perkamos, tačiau yra ir daugybė dekoracijų, kurias galima tiesiog išsinuomoti. Tai – šviestuvai, lemputės, nuotraukų stoveliai, dirbtinės gėlės ir jų kompozicijos, stalo bei kėdžių uždangalai, žibintai ir kt. gali būti tiesiog išnuomuojami.
Taigi, jau aptarėme keletą pagrindinių akcentų, kurių nuoma, artėjant vestuvių šventei, gali tapti ne tik išmintingu, bet ir ekonomišku sprendimu. Tačiau drąsiai būtų galima sakyti, kad būtent vestuvėms yra viena iš tų progų, kuriai reikia kur kas daugiau nuomos sprendimų. Kokie dar nuomos sprendimai gali būti naudingi? Apie tai – jau kitoje dalyje.
Atraskite mikroautobusų nuomą – Busiukonuoma.lt